Plater Bio Exhibit at Agri-Tech East Conference
Plater Bio are exhibiting at Bringing The Outside In - Innovating for Controlled Environment Agriculture Conference organised by Agri-Tech East.
The event takes place at Rothamsted Research, Harpenden, Hertfordshire on 19th March from 10am - 4pm.

Agri-Tech East is an independent business-focused cluster organisation for the East of England. It is creating a global innovation hub, to improve the international competitiveness of plant and crop-based agriculture and catalyse economic growth.
The conference will cover the technologies for production of high quality, consistent crops grown in highly controlled conditions, which are developing rapidly, making indoor commercial production at scale a viable proposition. They will be exploring the new technologies, the business models and the potential for scaling, as well as considering the viability of "out of the box" modular solutions for commercial applications and farm diversification opportunities.

Plater Bio will be promoting their unique technology Gold Leaf; The world's first and only complete liquid fertilizer. Contains every plant nutrient in a buffered and chelated form. Can be used as a 'one part' hydroponic fertilizer or in field production where calcium is needed to be applied alongside NPK.


Gold Leaf radically simplifies hydroponic cultivation, and as such, it is now possible to take a crop from seed to harvest with just one product to fulfil your crops nutritional requirements!
Gold Leaf has been successfully tested on over 30 crop species in ebb and flood hydroponics.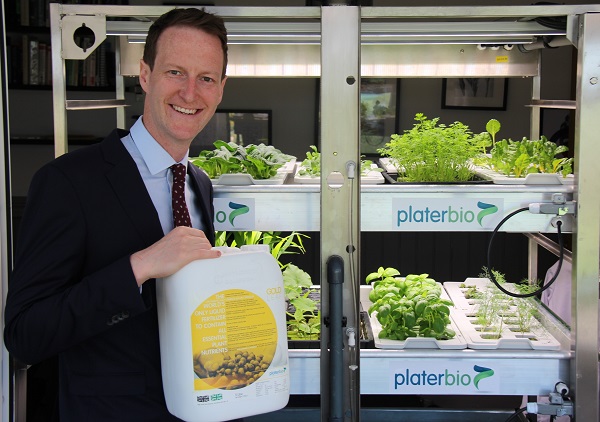 Plater Bio are keen to talk to potential new partners to increase the use of
Gold Leaf
through trials in new regions, growing systems, and crops.For more information on our products visit us on our stand or contact
sales@platerbio.co.uk