CHEMUK 2020 Postponed NEW Dates Confirmed
Reflecting the unprecedented situation with regard to current Covid-19 (Coronavirus) fears, apprehension and uncertainty, plus the concern of exhibiting companies on the show floor, the organisers have taken the decision to postpone the exhibition until Wednesday 16th & Thursday 17th September 2020.
ABOUT THE SHOW
CHEMUK is now established as the UK's annual chemical industries supply chain expo and 2-day speaker programme, bringing together attendee groups from all segments of the industrial chemicals, formulated products, as well as from biochemical & process industries.
Supply Chain Expo:
CHEMUK 2020 will provide visitor groups with a diverse showcase of some 270+ specialist UK & international exhibitors, showcasing latest plant, equipment, technology, supply chain materials & services supporting the chemicals industries, driving operational performance, efficiency, future-proofing, safety, sustainability, compliance and more.
Key exhibitor streams include:
Supply Chain Chemicals, Ingredients, Raw Materials - NEW for 2020 – CHEMSOURCE
Plant, Process, Flow & Control
Health, Safety, Environment, Regulatory
Logistics, Storage, Handling & Fulfilment
Laboratory, Research & Development
Operations & Business Performance
Skills, Training, HR & Recruitment
Speaker Programme:
The CHEMUK 2-day speaker programme will host some 100+ expert speakers discussing the big challenges and opportunities affecting the UK's chemical industries, and providing invaluable sector intelligence, best practice and innovation takeaways, guiding crucial next steps for attendee groups.
We can now confirm that Plater Group will be contributing to the Speaker Programme.
Richard Sykes, Technical Director at Plater Group will present Production Processes in Complex Supply Chains on Thursday 17th September at 10:30 - 10:45 on stage 2.
The presentation will provide an independently positioned insight into sector challenges and solutions.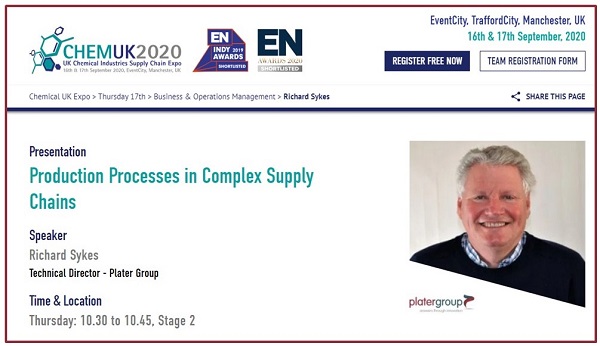 Visit stand C6 where we will be pleased to meet visitors throughout the exhibition to discuss your requirements or contact us - sales@platergroup.co.uk
Registration for CHEMUK 2020 is now open and free to attend, go to CHEMUK website to register for your free two-day pass please www.chemicalukexpo.com