Plater Bio Exhibit at New Ag Conference & Expo
Plater Bio are exhibiting at the annual New Ag International Conference and Exhibition taking place in Dublin, Ireland from 27th - 29th March 2019, where more than 700 delegates are expected.
The exhibition will cover the latest market trends and products in plant nutrition and soil health, gathering the specialty fertilizers, fertigation and biostimulant industries.

Plater Bio will be promoting their unique technology including;

Gold Leaf; The would first and only complete liquid fertilizer. Contains every plant nutrient in a buffered and chelated form. Can be used as a 'one part' hydroponic fertilizer or in field production where calcium is needed to be applied alongside NPK.
Production of fungal chitosan for use in a number of industries. In agriculture chitosan can be used as a biofungicide/biobactericide under EU organic regulations. As Plater Bio's chitosan is manufactured from fungi, not animal waste (the industry norm), it makes it ideal for use on food crops.
Extraction and refinement of bioactive ingredients from algae (seaweeds) for use as biostimulants.
Chelation of micronutrients with organic acids.
Contract manufacturing of finished fertiliser and the supply of raw materials
In addition, Russell Sharp, founder and Technical Director of Plater Bio has been asked to speak at the conference. His presentation on Thursday, 28 March 2019 at 11:40 will cover "Development of a "one part" hydroponic fertilizer.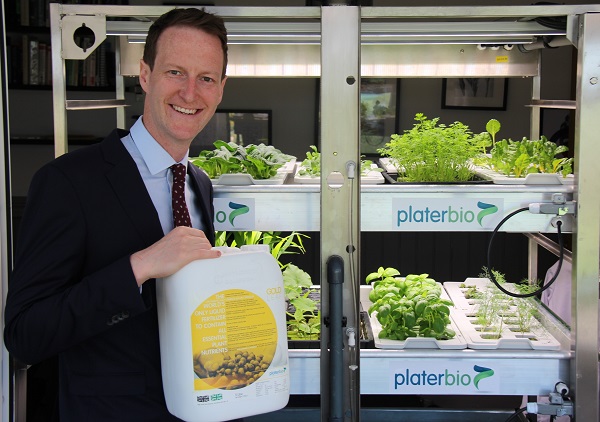 The Slow - and Controlled-Release Speciality Fertilizers (SCRSFs) conference will take place at the same venue organized by New Ag International in conjunction with International Fertilizer Association (IFA) and its 1st Precision/Digital Ag conference and exhibition in conjunction with the International Plant Nutrition Institute (IPNI).