Plater Bio sharing expertise in series of talks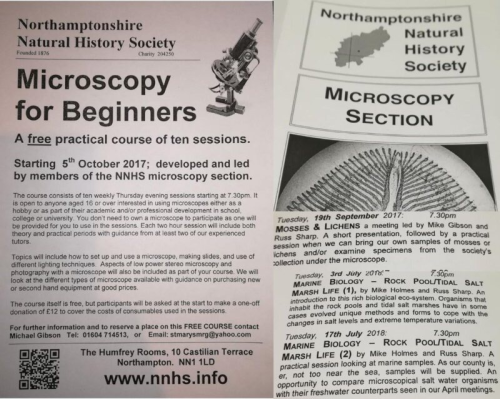 Plater Bio's Technical Director, Russell Sharp is sharing his expertise in a range of talks and courses being run by Northamptonshire Natural History Society.
Starting on 5th October 2017, Microscopy for Beginners is ideal for budding scientists and enthusiasts alike and will include both theory and practical sessions. Topics will include how to set up and use a microscope, making slides and using different lighting techniques. It will also cover aspects of low power stereo microscopy and photography with a microscope.
Russell's microscopy talks cover Mosses and Lichens (19 September 2017) and Marine Biology – Rock Pool/Tidal Salt Marsh Life (3 July 2018 and 17 July 2018). Both include presentations which share Russell's expertise as well as practical sessions to analyse and compare specimens under the microscope.
If you would like to discuss opportunities for Russell Sharp or other Plater Group experts to speak at your events, please get in touch!